On this page, we'll go into detail about what Elkstar Shop is actually like as an online retailer. To find out if Elkstar.Shop is a scam or a reliable business, all you have to do is read the review that follows.
| | |
| --- | --- |
| Domain name | Elkstar.Shop |
| Website name | Amazon (Brand Name Misused) |
| Email | ServiceSusan@outlook .com |
| Product Categories Available |  All Products |
Items Offered On Website:
Amazon Return Unclaimed Tools Collection,
Amazon Global Online Wholesale Pallet,
Online Customer Returns Pallets for Amazon and Walmart,
Amazon Customer Returns Tool Pallets Online-2022, etc.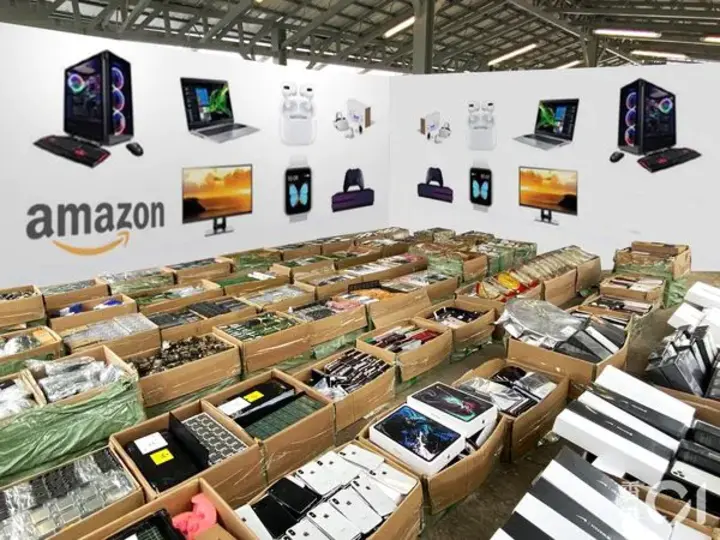 Description of Elkstar.Shop
It is an online retailer that sells large quantities of things like "Amazon Refund Unclaimed Tools Collection" with identical product information and photographs to numerous swindling websites.
Before choosing this online business as your buying destination, there are a lot of things you should know about it.
Further information that demonstrates Elkstar Store is a bogus website is provided below:
Contact details:
The email "ServiceSusan@outlook.com" associated with it has been discovered on numerous phony websites, including DialogstarShop, PearlseaShop, ArcherstarShop, TutustarShop, SpidersunShop, etc.
Brand Abuse
As the name and logo of its website, it has used the Amazon brand. But, it is not connected to the Amazon firm. Hence, it has abused the Amazon brand.
IMPORTANT NOTE: At the time, it has been determined to be misusing the Amazon brand name; however, given the prevalence of scam websites that follow similar patterns, it may soon start misusing another brand or alter all of the information on its website.
Keeping the website secure:
On a couple of its Product Details pages, Elkstar has included phony McAfee, Norton, and other trust seal logos. Hence, if you shop at this website, it's possible that your credit card details and other personal and financial data will be stolen.
Offers for discounts and sales
Several items that are on sale in large quantities are posted there, like the Amazon Global Online Wholesale Pallet and the Amazon Return Unclaimed Tools Collection. Most scam websites offer these kinds of sales to get consumers into their con.
Content copied:
The Elkstar website's design and wealth of additional information are similar to several scam websites.
Complaints from customers and deliveries:
According to complaints from customers of similar kinds of online retailers, these kinds of online stores' shipping times, customer assistance, and after-sales services are all allegedly quite subpar.
Our Final Conclusion
Feel free to leave a remark below if you have anything to say about this business. Please feel free to share this review with your family and friends on social media to let them know about this online retailer.
These days, a number of brand-new internet retailers claim to offer a wide range of goods at steep discounts, but most of them are frauds.
So, it is best to avoid using the new online retailers or at the very least, conduct some research before making a purchase there.
because the majority of these new online retailers either fail to provide customers with the products they ordered or offer completely different or subpar goods.
Some fraudulent internet retailers have even debited customers' credit cards at random without their permission.
In order to secure your credit card information, we advise you to alert your bank or credit card company right away if you have ever made an erroneous transaction from a scam website.
Note : These websites occasionally change both their name and the entirety of their webpage, according to observations. The following review was created using the data that was available on its website as of the aforementioned date. If you later encounter information that is different from what we have provided in this review, it means that this online merchant has revised their information. Despite that, the location is still questionable.